It Pays To Be Organized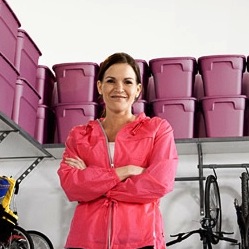 A guest post by Stephanie Hyde from Monkey Bars Garage Storage System
To many people organizing seems like a daunting task that they'll never get around to. If this is you, here's a little push, simple steps like adding cabinets, shelving, overhead storage, and floor coatings can affect your home price by as much as 14 percent! (According to a Florida State University Study)  Not only does this makeover give your wallet a boost, but it also helps increase the space in your home as well.
Overhead Storage: The most underutilized area of the home is the garage. Overhead storage is a fast way to store seasonal items, such as decorations, and other less frequently used items out of the way. Space above windows and doors can also be used. An important factor that is often overlooked when installing overhead storage is making sure that it is secure. Professional installation of overhead storage is key to protecting precious things that may me underneath, such as cars or children. In addition, make sure that the product that you choose comes with multiple mountings, ensuring maximum strength and security.
Cabinets: Adding cabinets is a quick way to increase the aesthetic value of your garage. Cabinets allow you to store items safely out of reach of children, and away from dust and sand. When choosing a cabinet, choose colors and styles that complement your style of home. Pay attention to extra features such as slow shutting doors, as future home buyers will pay more if they are included.
Shelving: The three factors that should be considered when installing shelving are strength, storage capacity and guarantee. Weight capacity is important, even if you are planning on storing lighter items now. As time progresses, your storage needs may change, causing you to store heavier items. It is also important to consider how much you can storage with each kind of shelving. Units that allow layered storage and under shelf storage are great for being able to store more in a small area. By buying a product that comes with a warranty, you don't have to worry about the price to replacing it if it breaks.
Floor Coatings: When people decide to redo their garage, they often forget about the floor. Unsightly cracks and stains can age and decrease the value of your home. However, adding a floor coating can be the finishing touch to transforming your garage into a usable part of the home. When choosing floor coatings, it's important to choose brands that only use safe chemical and non-yellowing products. Oftentimes, sunlight can change the color of the flooring. With UV stable flooring this isn't a worry.
By taking the time and investing in the simple garage solutions and getting organized, you can be on your way to added value to your home and garage.
Monkey Bars Garage Storage System are garage storage and organization company serving homeowners all around the United States and Canada with solutions and tips for an organized garage.