What organizing challenge is driving you crazy at home? Is it just the excess clutter that needs cleaning. Maybe you need paper organizing and systems to stay organizing. Need help with downsizing and unpacking? Even if you need help with a storage unit or hoarding, our team approach makes the difference.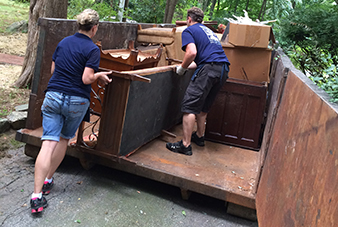 Clutter Cleaning
Is clutter interfering with your priorities? We take the less important stuff out of the way, so that you can get to the most important stuff. We start with clearing garage clutter, then clearing basement and attic clutter. Before long we are decluttering your kitchen, home office,  playroom, & bedroom.
Paper Organizing
Overwhelmed with paper and don't know where to begin? Can't find what you want, when you want it? Don't know what papers to keep? Our team of home organizer experts can help. We know that organizing paperwork can't happen without first decluttering paperwork.
Downsizing
Is "decluttering house for sale" on your to-do list? Worried about fitting everything into your new home? Decluttering before a move is a great opportunity to reprioritize all your possessions. Overwhelmed? Our team organizing approach will give you momentum and focus, needed to sell your home faster and save on moving and storage cost
Organizing Seniors
Are your parents overwhelmed with the challenges of aging? We offer professional organizers for senior citizens. We can help with the decision-making, when there is confusion with organizing paper files at home, decluttering, and downsizing. We help seniors not only get organized, but stay organized.
Unpacking
Feeling unsettled in a new home? Our team offers the best professional unpacking services. Start off on the right foot, by having your home professionally organized, and at a reasonable cost. We set up dedicated zones and storage systems, so it is easy to find what you want, when you want i
Organizing Systems
Did you just organize your home a few months ago and the clutter is already back? Organizing systems help you STAY organized in your garage, home office, kitchen, storage room, basement, workspace, and small spaces. We also offer storage organization hacks, that really work for busy families.
Storage unit
Things that go into storage units, tend to STAY there. which costs money. Our team approach means you get storage room organization FAST. We do the physical work and help you reduce or eliminate your storage locker. We offer tips and ideas to make items easier to find and more accessible.
Virtual Organizing
Wondering how to get organized with no time? Need an organizing coach to get organized and stay organized? Able to do DIY organizing, but need some organizing help at home? If you are able to do the physical work, but need some professional organizing help, virtual organizing, might be the answer for you.