Product Review: Lawn Bag Holder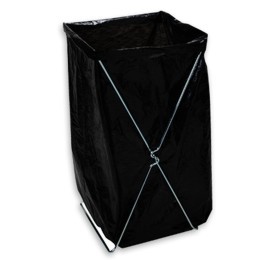 More than any other product, our clients want to know about our lawn bag holder. We set it up with a big contractor bag right after we set up our "decision table." The big open bag shows, we mean business.
Like so many of my favorite products, I love the lawn bag holder for its simplicity. It closes up flat and is very portable. It opens up and supports a very heavy bag of trash.
You may wonder why you need it all, but having the right structure is very important for decluttering projects. You need decent boxes to sort the keepers and you need a big open receptacle for the trash. To avoid the inevitable distractions, you need to maintain a certain momentum, which you can keep if you've got a big open bag at waist level. That's what the lawn bag holder gives you. Bending over to open up a bag on the ground with both hands is nothing but discouraging.
One tip: hang the bag so the wide part of the trash bag runs through the open part of the frame.  When the bag fills up, of course, it expands outward. It is much easier to pull the wide part of the  full bag through the open part of the frame.
I used to buy these at the Container Store for about $11.00, but for some reason, they no longer carry them. I can now find them at cartsandanchors.com for $24.99, plus shipping or at Midwest Gloves & Gear on Amazon for $15.90, plus shipping.  Carts and Anchors actually call it a folding laundry hamper. OK, that could work and I know the original intention is to collect lawn and leaves, but I think it is terrific for trash.