Product Review: mobile clean & go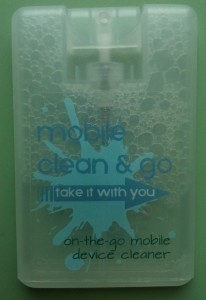 Once again, another rave review for a very simple product that just works very well. Mobile clean and go is a spray for mobile devices that is packaged in a very neat rectangular container that you can fit in any pocket. As the name suggests, it is designed to go.
The pump is well protected and it distributes a spray of safe cleaning product beautifully and evenly, no "spitting." At first I was tempted to (and did) spray directly on my screen, but the instructions do clearly say to spray on the cloth that is provided. There is a terry cloth side to spray on and a smooth side for buffing with.
With the little cloth, the product is easy to apply and it cleans off, cleaner than a mirror, in seconds. Using this product in this fashion won't damage the screens on your portable devices. I was so impressed that I tried it on my desktop screen, but it was asking a lot of the little cloth. It promises to be a product for mobile devices and it delivers.
The mobile clean & go is beautifully portable. I keep it in the center console of my car to clean my iPhone, iPod, and MacBook. At $12.99, it's not cheap for a cleaning product, but it's nice to use something that works and works well. When something works well, one is more inclined to use it than the cheap product that frosts your screen on the odd occasion you do you use it and takes up residence under your sink when you don't.
It's surprising what a good mood a clean screen can put you in!