Product Review: Sharpie Products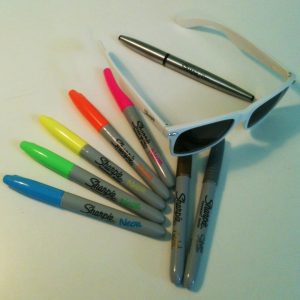 I have been a fan of Sharpie products for years. Every one of my team's project boxes have black Retractable Sharpies in them, so we never loose a cap. My clients love them! Today, however I am looking at three new products from Sharpie: the Premium Pen, the Neon Permanent Markers, and the Metallic Permanent Marker.
The Premium Pen.
I have always associated Sharpie's with markers, but this is the first time I have seen a Sharpie Pen. It has a very fine felt tip and writes very smoothly. With just a very light touch, you can write a very even line, without the skipping, that you might get from a traditional ball-point pen. I have to say I love the look of the Premium Pen. It's stainless steel and it looks like a long silver bullet.
Neon Permanent Markers.
If you're running short of regular Sharpie colors for color-coding, Sharpie has introduced a new line of Neon Permanent Markers. They come in neon pink, neon orange, neon yellow, neon green, and neon blue. They're not a substitute for highlighting words, but their bright colors definitely stand out on the page.
Metallic Permanent Markers.
These markers come in gold and silver and are great for writing on dark surfaces. The darker, the better. The Metallic Permanent Markers write beautifully smoothly and would be great for labeling colored plastic bins in the basement.  You could also get creative and send a black greeting card with gold and silver writing. The gold and silver line from these markers, on a black surface, reads just as clearly as black on a white surface. They're a lot of fun!
Bonus Product.
Speaking of fun, did you know Sharpie is also making sunglasses? It's true. That's me rocking a pair in the photo.
I haven't seen these products in regular offices supplies stores, but they are all available at shoplet.com.
Which of these Sharpie products sound like the most fun to you?