Product review: VersaPlus Clip Dispenser and Landscape Clipboard
Clip Dispenser
The VersaPlus Clip Dispenser is a great product for organizing a limited number of office supplies in one convenient accessory. I emphasize limited because that is a good thing when it comes to organizing your desk space. Your number one organizing tool is a clear work surface for processing. Back up supplies should be stored more remotely, to free up this vital work surface. Smart products like the VersaPlus Clip Dispenser take up less desk space, but hold a number of office supplies.
There are seven compartments and a generous slot. One compartment is perfect for 3" x 3" adhesive notes. There are little side compartments for things like paper clips and there are two clear slide out trays, for additional small supplies. Two vertical compartments in the back are at two different levels so you can keep pens and markers in one and longer items, like scissors, in the other. The slot is a good size for envelopes. It can also hold two checkbooks, vertically. Finally, you can place a 3"x 5" photo in the clear slot on the face of the unit.
To be honest, I am usually suspicious of "all-in-one" organizing tools, but this one has the virtues of being well planned and small.
Landscape clipboard
I'm a big fan of this style of clipboard, with the low-profile metal clip. I use one every day. So what more can you say about this clipboard? It's horizontal! Some documents just make more sense positioned horizontally on the landscape clipboard. A weekly or monthly schedule would be a good example. Spreadsheets would be another. A retractable loop means it can be easily hung on a wall, for convenient viewing.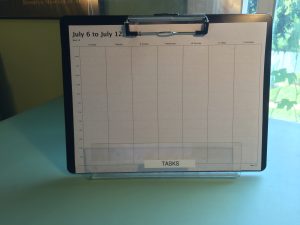 http://www.shopletselect.com/Officemate-Recycled-Plastic-Landscaple-Clipboard/OIC83050/spdv
http://www.shopletselect.com/Officemate-OIC-VersaPlus-Functional-Desk-Organizer/OIC23112/spdv