Product Review: Fellowes Saturn 3i 95 Laminator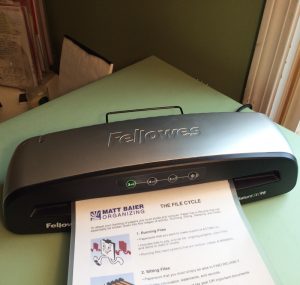 The Fellowes Saturn 3i 95 Small Office Laminator is an excellent laminator. It couldn't be simpler.  If you have been frustrated by the learning curve that comes with all the new gadgets and software that are available these days, then you're in for a treat.
The Fellowes  Saturn 3i 95 Laminator  is lightweight, only about 4 pounds. It doesn't take up too much shelf space with your other office supplies and it's easy to use. To power up there's just a simple on/off switch and you're ready to go. Simple as that!
Any document you want to laminate just goes in a simple 3 mil plastic pouch. Just be sure the document is centered inside the pouch then, direct the sealed side toward the laminator, and then make sure it is lined up straight against the guide as you feed it in. The laminator does the rest. Internal rollers pull the pouched document through smoothly and quietly. In just moments, you get a beautifully laminated document coming out the other side. Works great for photographs and smaller documents too.
In the event that anything should go wrong, there is a very comforting, very obvious red lever to push down, which releases the misfed document. I had no problems whatsoever.
Finally, the laminator comes with a laminator roller cleaning sheet. Not surprisingly, it was very easy to use as well.
The Fellowes Saturn 3i 95 Laminator  gives you everything you could want from a laminator and I highly recommend it.