Product Review:  The Car Seat Cooler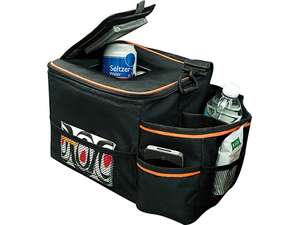 The Car Seat Cooler is made by the Talus Corporation, based in Portland, Maine. In full disclosure, both my Vice President, Ben Soreff and I are sons of the great state of Maine, so it's hard not to be biased for a Maine business like Talus, but we will try.
My Mum still lives in North Yarmouth, Maine, about 20 minutes from Portland. My wife Susan and I visit her every couple of months and we always bring a snack bag for the drive.  A couple of weeks ago, however, we brought the Car Seat Cooler instead. It was a distinct improvement.
Made with 600D polyester, insulated lining, and double bias tape, the cooler keeps our sandwiches fresh and our drinks cold. It brings just the right balance of structure and flexibility to work in a car. At 12" x 8.5" x 9", it's a good size for a car too. It can hold up to six cans or bottles. There is a small velcro opening in the middle of the lid, for easy access.
There are also a lot of neat little features that make it really handy, including two mesh pockets to keep contents in view, two loops for pens or tire gauge, and a pocket for mail, notes and more. It can be secured to the seat with a seat belt and includes a removable shoulder carry strap, which I really appreciated when I was unloading everything from the car, upon arrival at Mum's North Yarmouth home.
The one downside, is that the zipper broke immediately, but the upside was that there was a second zipper, that served as a back up. The Car Seat Cooler retails for $20.00 and is available at many online locations.  It's a great way to keep your snacks organized for YOUR next drive to Maine, or anywhere for that matter.