Product Review: See Jane Work
This is the first time I have ever reviewed a line of product, but the good folks at See Jane Work have sent along several samples. Jane is actually Holly Bonn-Weiss, a successful entrepreneur who believes there is no reason organizing products can't be stylish. I agree. I have combined them in the photos, but I shall review them one at a time.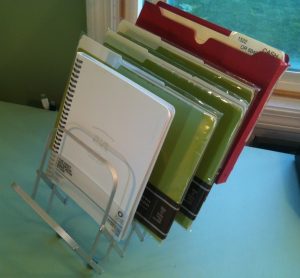 Desktop Organizer
The expandable desktop organizer is not unique to See Jane Work, but this is a nice one. In a small space it can hold standard folders or in a wider space it can hold wider file jackets, like the red one shown. Putting multiple folders in each slot doesn't work well, because each slot slopes backward and tabs become hidden, but it's a good solution for thicker files that demand flexibility.
File Folders
These grass colored file folders are definitely prettier than manila.
These boxes are very nice, but I'm not sure they are any better than the classic Stockholm storage box, you might find at a place like The Container Store.
LePens, assorted colors
I used to use black LePens when I designed artwork for garments in the 1990's. They work fine. I think the point here is, that there are matching colors to make the files look prettier.
Big Silver Clips
I'm not a big fan of paper clips. The big size doesn't help.
Ogami Wirebound Notebook
This notebook is by far the most interesting product in this line. It features itself as the "first notebook made from stone"  (80% calcium carbonate and 20% non-toxic resins). It has a long list of advantages: tree free, waterproof, resistant, economic, yields less CO2, recyclable, soft, and safe. Although I renew my objection to spiral notebooks, I have to say this may be the finest one I have seen.  And despite my belief that you should have your need determine your product, in this case, I really want to come up with a need for this product.
There's no secret that the See Jane Work line of products is targeted toward women. There is a school of thought that says, if your organizing systems look pretty, you will be more inclined to use them. I think there's something to that. Ladies, if you agree, See Jane Work  has got you covered.