A Dynamic Duo For Storage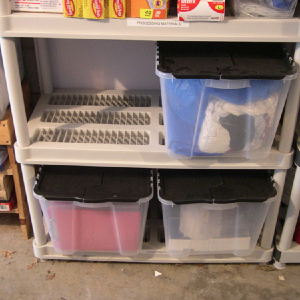 As with a Reeses Peanut Butter Cup, two storage  items that are good separately are great together.  The two items I am focusing on today may seem pretty familiar individually and perhaps you use the combination already.  I would go so far as to say that for a quick, easy, inexpensive, and optimally efficient solution, there is nothing better.
Item #1 is the HDX 5-Shelf maximum ventilated shelf, available at Home Depot, for just $34.97.  No, these aren't beautiful, but they assemble in about 10 minutes and you are almost instantaneously able to take advantage of your vertical space.  It's important to follow the instructions carefully (I see a lot of these falling apart because they are constructed upside down) and not to overburden them, but for most storage they are ideal.
Item #2 is the 12 gallon clear plastic flip top totes, also available at Home Depot.  So getting both items is a one stop solution! These go for $5.98 each. I always prefer clear containers. Reveal, don't conceal. The smooth surface allows you to easily adhere labels, for even quicker identification. The flip top means you never lose the lid.  If I had a dollar for each of the unmatched lids and bins I've seen in my years as a professional organizer, I could retire early.
I haven't read anywhere that these totes were designed to fit exactly two per shelf on these "ventilated" shelves, but they do.  Accessibility is a snap. Eight totes and one set of shelves cost under 100 bucks and you can fit a LOT of stuff.  For this price, both items are probably not American-made and, being that they're both plastic, they're probably terrible for the environment.  I would argue, that we are already using a lot of foreign-made, eco-unfriendly items anyway, but very few will provide lasting order, as well as this combo.