It may seem too early to start thinking about holiday organizing, but a big part of organizing is planning ahead, so your next steps are easier. Besides talking about holiday storage, I'm also going to throw in some general storage tips as well.
Holiday storage
Declutter
Free up valuable storage space by getting rid of the excess. As you're pulling out holiday decorations, ask yourself if there are some items you didn't bother using last year. Odds are good you won't use them this year. If you're not sure, ask the same question again, as your putting your holiday items away in January. Get rid of what's getting in the way.
Work with your space
There are always a lot of large awkwardly-shaped decorations, like lighted reindeer and life-size nutcracker figures, that eat up floor space, so take advantage of vertical storage space, wherever you can. With your shelves, make sure you are using bins that fit on them. Those really big tubs usually don't. If you have closet space, you can hang things in garment bags, like wrapping paper and wreaths.

Ziploc to unlock
I love using Ziploc bags to separate holiday lights and keep them from tangling. Wrap them around a small piece of cardboard and you can store them in a box vertically.
Pinterest-ing solutions
If you don't know about Pinterest.com, check it out for some great decoration storage tips. Some of my favorites are using shallow plastic cups to store ornaments, egg trays for small ornaments, and shrink-wrapping your Christmas tree to save space.
General storage
Maximize vertical space
A great storage principle to start with is frequency merits facility. Items you access all the time should be located at eye level. Regular items that are easier to access in drawers, like batteries and lightbulbs, should be located just below eye level. Items that you access just a couple times a year should be on lower shelves and items you access just once a year should be on upper shelves, if possible.

Wheels for portability
Sometimes portable storage makes sense. Make it as easy as by using wheeled solutions wherever possible. I really like this four drawer rolling cart. It works great, for among other things, gift-wrapping supplies, that you may want to move from room to room.
Storage Products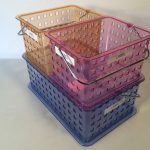 Zia boxes
I am one of those rare organizers, who does NOT like storing in baskets. A great alternative are these Zia boxes. They come in a variety of colors, they are clear (reveal, don't conceal),  their smooth surface accepts a label, and they are stackable in a variety of configurations. Traditional baskets allow none of the above.
Label windows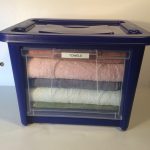 Because the purpose of boxes often change or get updated, these label windows are a great way to switch out labels quickly and cleanly.
All Access™ Organizers
These stackable bins from Rubbermaid provide a clear panel on the front for visibility and that panel drops also opens up for easy accessibility.
Of course, this is just a small sampling of storage tips and products.  Do you have some favorites that didn't make my list?