Last week I had the pleasure of meeting with Karen Bradbury. She is the award-winning owner of Closet & Storage Concepts in Norwalk. People know her store  for bedroom closets, but it also features a great variety of garage structures and systems. This is where I focused my attention for garage month. Here is my review of their garage organizing systems.
Cabinetry
The garage cabinetry systems come in ten  different packaged designs, to choose from. The packages range from Package 1, which features a full array of structures, to Package 3, which is simply a row of wall cabinets. Then there is a variety of options in between. Package 1 ( above) includes full length cabinets, high cabinets, low cabinets, drawers, workbench, and a slat wall. 
All of these units offer great vertical storage. Seven feet is the standard height. They are constructed  with MDF material and reasonably priced. The pre-designed packages are the most cost effective. They also offer custom garage organizing systems. All cabinets are elevated, to allow for easier cleaning and protection from moisture.
Slat wall systems
Closet & Storage Concepts furniture is constructed by local craftsmen. In fact, the workshop is on the same site as the showroom. They integrate the slat wall systems, which come from HandiSolutions in Illinois. The slat wall is made of PVC and is very strong and easy to clean. It offers tremendous flexibility in storage options. The flexibility comes from a wide variety of garage storage hook systems.
There are hooks, magnets, and small containers for tools. There are golf bag structures, mesh ball bags and a garage organizing systems for bikes. There is also a variety of hooks for garden tools and supports for a garden hose and a ladder. In addition to the slat wall systems, HandiSolutions also offers garage organizing overhead. You can get this at Closet & Storage Concepts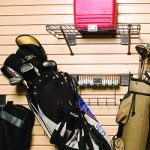 too.
Right for you
Closet & Storage Concepts features solutions for every life style. This might be a workshop, a gardening center, or activity room.
The consultation is complimentary and usually Karen does it herself. When she meets with you, she takes measurements, and shares options and inventory. She provides electronic drawings by email. She uses a laser measure, so she just needs to be able to access you walls. Once you approve the drawings, then you can schedule the construction. Most garages constructions is  completed inside of a day.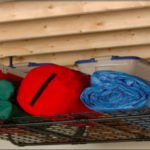 The Closet & Storage Concepts garage systems are a good choice when you like to hide away as much as possible.  They also offer a nice combination of attractiveness and affordability. You may, however, find them somewhat limited if you have a large amount of bulky equipment. In that case, I often find it's time to consider building a shed anyway.
Learn more about Closet & Storage Concepts at http://closetandstorageconcepts.com/ct/