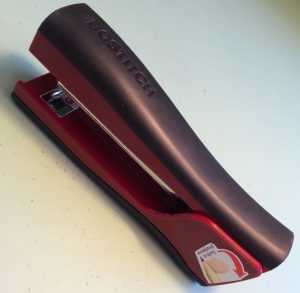 The Stanley Bostich Dynamo Stapler is a great back-to-school office supply with a lot of really nice features.
My favorite feature is that it can stand vertically, which frees up that all important work surface. Every little bit helps.
It comes with an ergonomic antimicrobial strip covering the entire surface, which makes for an easy grip. It's lightweight and fits comfortably into the palm of your hand.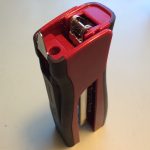 It's a full utility stapler. It can staple up to 20 sheets together. You can open it up 180 degrees, to tack items to a bulletin board. It also has a staple remover built in.
One feature you wouldn't expect is a pencil sharpener in the back. This can be nice if
you have a trash can handy, as it doesn't come with a collector for shavings. Don't toss your electric sharpener just yet.

A really cool feature is a hidden compartment underneath to hold up to two bars of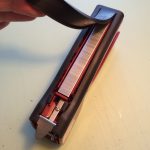 back-up staples, in the event you run out. This unique feature makes stapler more portable. Who thinks to pack back up staples?

Finally, for the environmentally conscious, the Stanley Bostich Dynamo Stapler is made from 70 percent post consumer recycled content. It's a great stapler and when you get on in your hand, you will find yourself looking for things to staple!